14may8:00 pmHold the LineA Tribute to TOTO
Event Details
Hold The Line ~ A Total Toto Experience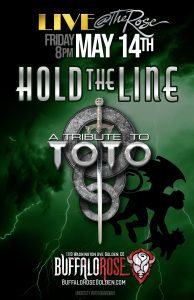 In September, 2020, Bill Thode, keyboards, set out to found a Tribute Band, focusing on the music of Toto, a band that inspired him with their songs and musicianship.  Bill contacted Ron Perron, bassist, and placed ads in local musicians sites for drummers, guitarists, and vocalists.  We found Joseph Morton shortly thereafter, and Joe had had a personal experience involving Jeff Porcaro, original Toto drummer and an all time great, that had him highly motivated to honor Jeff's legacy.  He quickly became "the guy" on drums.  Auditions can be a grind, as musical organizations go through lots of folks in the process who don't quite fit, for a variety of reasons.  We had some wonderful auditions, but weren't able to fill the positions of guitar and vocals, until…
Bill got a response from Shane Russell, a very experienced vocalist.  There was only one issue.  Shane lives in Mississippi.  And contrary to popular belief, it's nearly impossible to audition, never mind rehearse effectively, on Zoom.  So, Shane flew into Denver to audition on the same day we had Bob Croft audition as guitarist.  I think we scared ourselves that day!  It was a really potent rehearsal, and we gave each other goosebumps!
Social Distancing Rules Apply:
General Admission.  Seating is first come first serve.
Limited to 100 Max Occupancy.
4 Persons per table Max.
Mask are required while not seated.
Dance floor will be closed for the duration of the show.
7:00 pm Doors
8:00 pm Show Starts
Location

Buffalo Rose Event Center

1119 Washington Ave Golden, CO 80401