Dual Headliners: Still The Same & Born To Run
18mar7:00 pmDual Headliners: Still The Same & Born To RunPaying Homage to Two Great Bands!7:00 pm Get Tickets
Event Details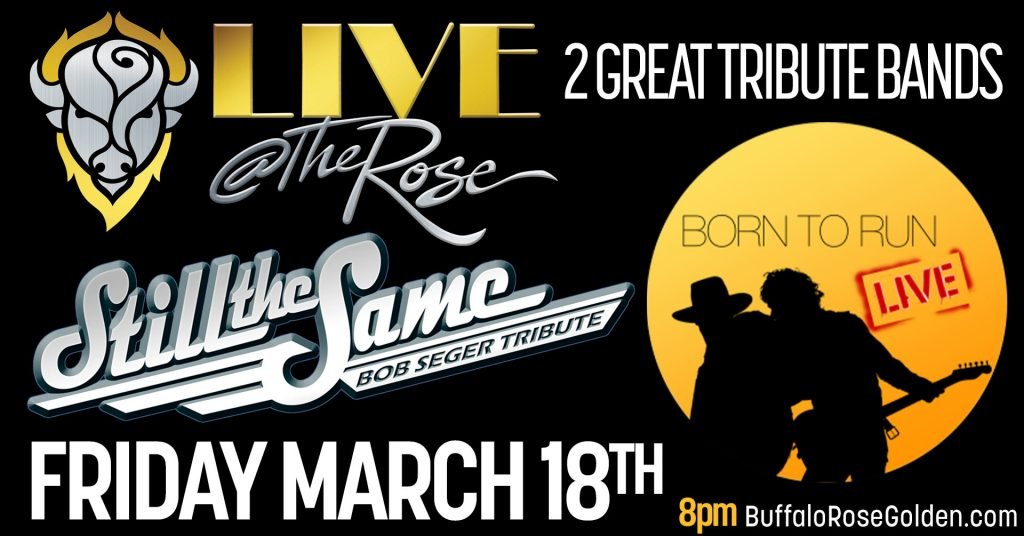 Still the Same
A Bob Seger Tribute is a Colorado band that performs the timeless roots-rock hits of Detroit singer-songwriter-musician Bob Seger. Led by Glenn Vigil as Bob Seger, the band is comprised of respected veterans of the Colorado musical circuit and a couple of talented fresh faces.
Over six decades, Seger and his backup bands, including the Silver Bullet Band, landed 31 hit songs on the Billboard Hot 100 and sold over 75 million records worldwide. He was inducted into the Rock and Roll Hall of Fame and the Songwriters Hall of Fame.
Still the Same balances its Seger set with fiery roots rockers ("Katmandu," "Her Strut," "The Fire Down Below") melodic masterpieces ("Still the Same," "Mainstreet," "Against the Wind"), garage psychedelia ("Ramblin' Gamblin' Man"), introspective anthems ("Turn the Page," "Travelin' Man"/Beautiful Loser") and the bedrock classic "Old Time Rock and Roll."
Born To Run
Colorado's premier Bruce Springsteen tribute band, BORN TO RUN, has been delighting audiences for many years, performing Boss hits at clubs, festivals, and private events since 2017.
Born to Run was designed to re-create the Springsteen experience as a means of honoring THE MAN and his E-Street pals.  BTR is all about the music…an uplifting, no-holds barred re-creation of sound and energy that brings the brilliant songwriting and passion of BROOOOOCE to life for smiling audiences all across the rocky mountain west… and beyond.
Showtimes
6:00 pm Doors
7:00 pm Born To Run
8:50 pm Still The Same
Location

Buffalo Rose Event Center

1119 Washington Ave Golden, CO 80401