Just a Girl: Tribute to No Doubt with Blink 303: Tribute to Blink 183
13may7:00 pmJust a Girl: Tribute to No Doubt with Blink 303: Tribute to Blink 183with Blink 303 - Tribute to Blink 182
Event Details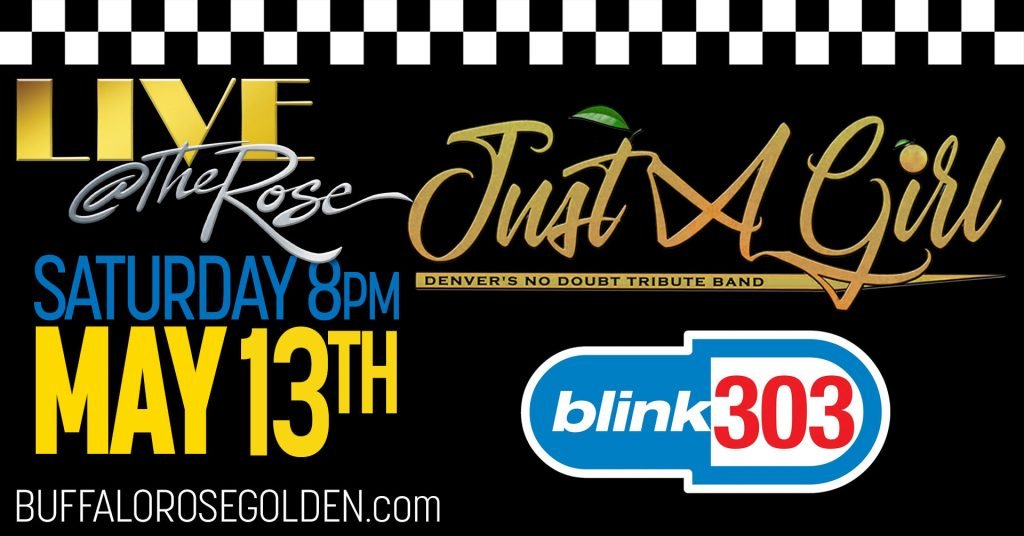 JUST A GIRL ~ A Tribute to No Doubt
Just a Girl is Colorado's very first and only No Doubt tribute band. Formed in 2018, the band is accurate to the No Doubt experience in wild costuming, electric stage show and technical musicianship while playing all the ska/alt rock/reggae hits from the 90s and 00s. Just A Girl has played all over Metro Denver as well as many local festivals and several benefits. Their sets are consistently packed with No Doubt's familiar upbeat hits (and the occasional cover), and there's no denying that their energetic stage show will keep you out of your seat ready for more!
BLINK 303 ~ A Tribute to Blink 182
While we are not internationally acclaimed like our big brothers, Blink 182, we are very well known on a few streets in Denver. We have received zero awards but almost always receive some kind of a pat on the back for our efforts – probably out of pity. That said, we will give you the full Blink 182 treatment at our shows, complete with the sound and antics of Blink 182 that you maybe have grown to love or hate. Here's what we promise you with our shows: 1. Lotsa energy; 2. Better harmonies than Blink 182; 3. A few dirty jokes; 4. We won't butcher the songs like Blink 182 does in concert; 5. You'll have as much fun as we do.
TICKET, SEATING & REFUND TERMS:
General Admission Tickets:  First Come First Serve.  For BEST Seating arrive early.
Reserved tickets:  As specified.
ALL Ticket purchases are Final.  NO REFUNDS allowed
Showtimes
6:00 pm Doors
7:00 pm Just A Girl
8:50 pm Blink 303
Location

Buffalo Rose Event Center

1119 Washington Ave Golden, CO 80401