Ten Years Gone (Led Zeppelin Tribute)
11aug7:00 pm11:00 pmTen Years Gone (Led Zeppelin Tribute)Dolls in the Attic (Aerosmith Tribute)
Event Details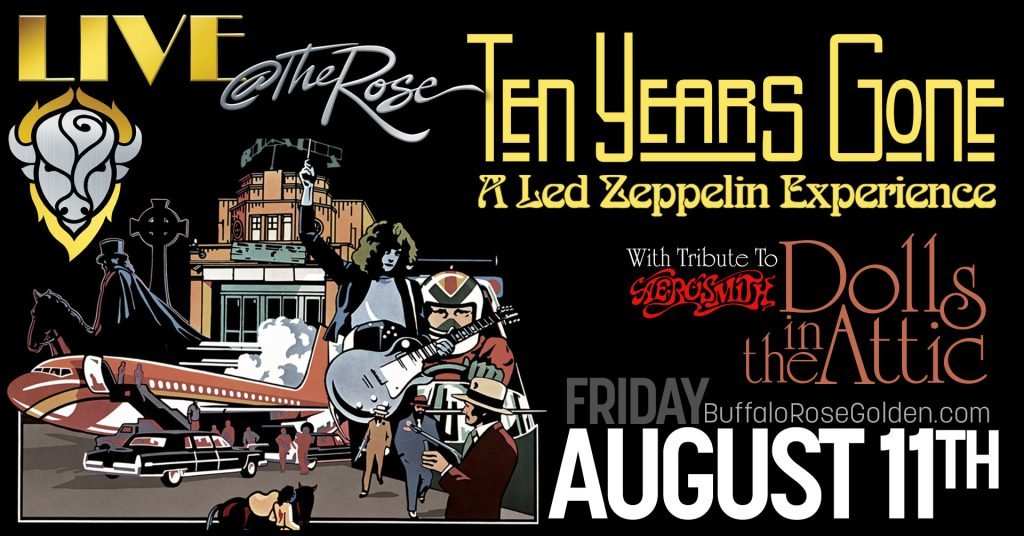 TEN YEARS GONE: A CELEBRATION OF THE MIGHTY LED ZEPPELIN
Ten Years Gone – A Led Zeppelin Tribute brings all the sonic mastery and energy to authentically recreate the amazingly memorable Led Zeppelin experience in an exhilarating live show. By combining the best live performance and studio album sound, Ten Years Gone gives music fans the ultimate tribute show to one of the greatest rock bands there ever was. Faithful recreations of equipment, style, and sound brings fans back to when the Hammer of the Gods was held by Led Zeppelin.
Ten Years Gone is lead by John McGah and his soaring vocals. He delivers Robert Plant's iconic style and vintage high notes to a degree not many singers can reach. His high energy front-man prowess brings audiences to their feet at every show. Cody Sickler's astute knowledge of Zeppelin's musical catalog and Jimmy Page's lead-guitar style brings Ten Years Gone to a new height of authenticity. His use of Jimmy Page's famous Les Paul guitars brings all of the classic tones to the stage. Bret Perrin on electric and acoustic rhythm guitars rounds out the wall of sound that can be heard on Zeppelin's studio recordings. Bret's guitar element and backing vocals enriches the sound audience members hear at shows. Rhythmically holding the sound together is J. Simms on bass, who functions as the pulse of Ten Years Gone. J. is dedicated to the pursuit of emulating John Paul Jones' legendary bass lines and musical sensibilities. Multi-instrumentalist Bill Galey's orchestral touch on the keyboards and acoustic guitars is paramount in the recreation of Led Zeppelin's music. He leads the band through epic show stoppers such as "Kashmir" and the beautiful "Rain Song." On drums, Joe Lederman has mastered John Bonham's thunderous style. As a lifelong fan of Bonzo's, Joe has meticulously studied Zeppelin's bombastic percussive side since he was a young boy; and he takes special pride in performing an authentically-inspired "Moby Dick" drum solo.
The band reproduces all of the hits, deep cuts, and folk and blues inspired songs in a way that captures all of the light and shade aesthetics, which Jimmy Page touts as one of the key aspects in Led Zeppelin's music. Ten Years Gone's incredible sonic and visual presence has developed on Colorado's theater and festival stages.
"Led Zeppelin tribute bands are not uncommon, but Ten Years Gone is one of the really special ones. The lights, the musical quality, the energy, and the look; the band's live performances do not disappoint." — Denver Westword
Band Members:
John McGah – Lead Vocals
Cody Sickler – Lead Guitar
Bret Perrin – Guitar/Backing Vocals
Joe Lederman – Drums
J. Simms – Bass
Bill Galey – Keyboard/Guitar
DOLLS IN THE ATTIC: A Tribute to Aerosmith
Dolls In The Attic  is an all female Aerosmith tribute band. Embodying the energy and character that has enchanted Aerosmith fans around the globe, this group delivers a dynamic rock performance with class and sass. Jasmine brings the vocal power of Steven Tyler to the stage. Ariadnee shreds lead guitar with the showmanship of Joe Perry . Karina lays down the driving baselines of Tom Hamilton. Julia grooves on rhythm guitar, embodying Brad Whitford. H keeps the train rollin all night long with the drum beats of Joey Kramer.
TICKET, SEATING & REFUND TERMS:
General Admission Tickets:  First Come First Serve.  For BEST Seating arrive early.
Reserved tickets:  As specified.
ALL Ticket purchases are Final.  NO REFUNDS allowed.
Showtimes
6:00 pm Doors
7:00 pm Toys In The Attic
8:50 pm Ten Years Gone
Time

(Friday) 7:00 pm - 11:00 pm
Location

Buffalo Rose Event Center

1119 Washington Ave Golden, CO 80401