The Michael Hornbuckle Band
21jul7:00 pmThe Michael Hornbuckle BandWith Austin Young Band (Full Set)
Event Details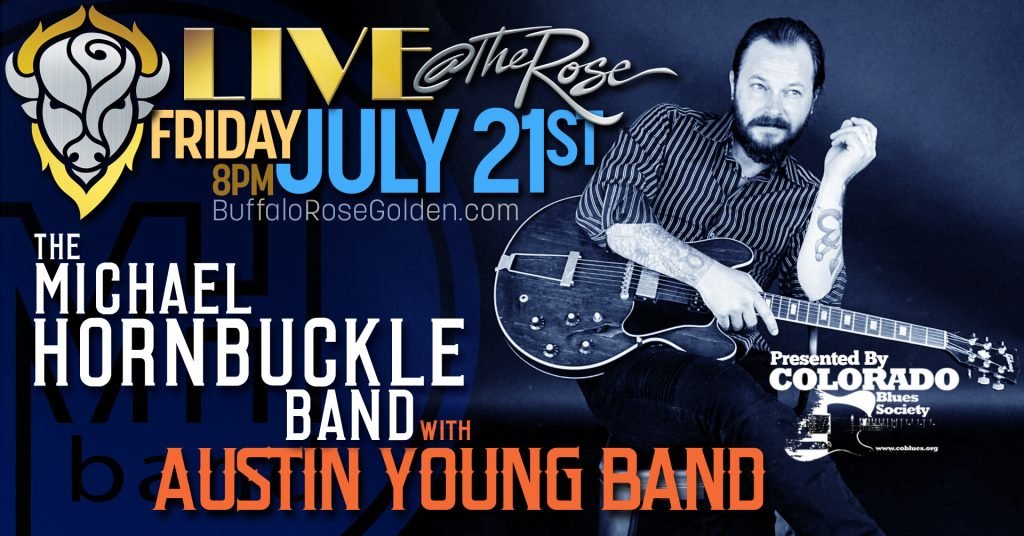 The Michael Hornbuckle Band
Michael Hornbuckle has been bringing blues and rock music to people for 18 years. Homegrown in the Mile High City, as was his father, legendary blues man Bobby Hornbuckle who had Michael backing him on drums at 12 years old. While Bobby's journey ended in 96′, Michael took over the torch. Michael inherited Bobby's old gibson 335. Some say a piece of Bobby's soul, and ability to play guitar were transmitted. Michael's quick to point out however: "The truth is, I spent all my time playing guitar cut I loved to play. I don't know about all that other spooky stuff, but who knows"
Nevertheless it was a quick transition. His 1st release in 98′ "Pass The Torch" was a raw and respected blues/rock album including; original cuts, covers such as Creams' version of Outside Woman Blues, and a tip of the hat to the man who passed on his love for blues, with a Bobby Hornbuckle original, Down In The Valley.
Early 2000's after a Red Rocks appearance warming up the Doobie Brothers, he spent time touring the country with Texas blues monster Vince Converse, and releasing the acoustic blues album Conbuckle Station "Here Come The Blues" on New Shoes Records. Michael continued to make more appearances at Red Rocks, McNichols Arena (for the very last rock concert there with Z.Z Top) The Pepsi Center (for their first rock concert) and Fiddlers Green Amphitheatre for shows like the B.B King Blues Fest.
Michael released "Lost & Found By Trial & Error", in 05′, and took it as an opportunity to evolve a songwriting ability, as well as a vocal and guitar sound that has become the reason for the buzz. In 2012, Michael was in L.A. recording the critically acclaimed album, Virtue & Vice with world class producer Alex 'Ace' Baker and brother Brian Hornbuckle. "Michael's voice is a soulful powerhouse that closely matched the pipes of Paul Rodgers (Bad Company) as they soar over the blues the band hands out on Virtue and Vice, their most recent release."
– Danny B. Alternate Root
"The songs themselves are nothing short of excellent. One of the best things about this album is that every song is its own experience, meaning the record will stay fresh with many repeated listens. This is a pair of musicians that is the absolute best at what they do, and after just a few listens, you will be hoping to yourself that it is not another 12-year wait until they bless us with another release!"
– Taylor Carlson Rock Over America
Not since ZZ Top and Stevie Ray Vaughn has there been a band that could wind a mean bar room boogie and bring the blues home like the Hornbuckle Brothers. Michael & Brian Hornbuckle take their inherited skill and bring serious fire to the front house in Virtue & Vice, their latest, and what will probably be recognized as one of the best new independently produced albums of the year."
– Joseph Timmons Xombiewoof Magazine & Xombiewoof Records
2015 after an appearance at the Telluride Blues Fest, the Mile High Blues Society recognized Michael by awarding him: Best Blues Band, Best Self Produced Album, and sent he and his band to Memphis to represent Colorado at the Internation Blues Challenge.
2016, and Hornbuckle's teaming up with Ace Baker again for his latest release The Memphis Sessions, due out August 2016. Michael is also nominated in this years Rock Awards for best songwriter, best song, best male vocalist, and best blues band.
Austin Young Band
Delivering fiery guitar licks and soulful sounds to listeners worldwide, Austin Young has crafted a unique sound and crowd-pleasing experience. With electrifying passion, energy, and stage presence, Austin makes every show personable and memorable to those within earshot. While staying true to traditional Blues elements, Austin has incorporated themes of contemporary Rock, Jazz, and Gospel to make his sound stand out to the large crowds he attracts. Inspired to pick up a guitar by many musicians, including his late father Tim Young, Austin has already produced and released two studio albums full of his original music, Blue as Can Be (2013) and Not So Simple (2016), and has been recognized for several awards in his home state of Colorado such as Best Guitar Player (2012-2015) from the Colorado Blues Society Listeners Choice Awards. When he is without his guitar, Austin enjoys giving back to charities that hold a special place in his heart, including Blue Star Connection and Habitat for Humanity. Driven forward by his passion for the guitar and faith in Christ, Austin is determined to continue his mission of positively impacting others through his music.
TICKET, SEATING & REFUND TERMS:
General Admission Tickets:  First Come First Serve.  For BEST Seating arrive early.
Reserved tickets:  As specified.
ALL Ticket purchases are Final.  NO REFUNDS allowed.
Showtimes
7:00 pm Doors
8:00 pm Austin Young
9:50 pm Michael Hornbuckle
Location

Buffalo Rose Event Center

1119 Washington Ave Golden, CO 80401